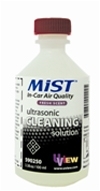 Item shown may not be actual product.
Product and price information are subject to change without notice.
---
$137.00 Direct from 3rd Party Supplier
MiST Cleaning Solution
---
Item Number:
UVU590250 -
Supplier:
CPS PRODUCTS INC
Description
Mist Cleaning Solution for vehicle interiors and ventilation systems.
Features
Designed exclusively for use with the Mist Ultrasonic unit (single application).
One bottle per vehicle
Warranty
One (1) year against defects.
Product Specifications
Standard Pack: 12
Bottle: 3.4 oz.
Per Vehicle: One Bottle