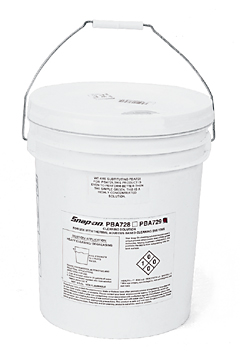 Item shown may not be actual product.
Product and price information are subject to change without notice.
---
$477.00 Direct from 3rd Party Supplier
Water-Based Biodegradable Cleaning Solution - 5 Gallons
---
Item Number:
PBA733 -
Supplier:
SNAP-ON TOOLS
Description
5 Gallons of Water-Based Biodegradable Cleaning Solution for use in PBC33A and PBC33B Parts Washers.
Environmental Benefits
Breathe Easier - Cleaning solution carries a licensed Green Seal Certification Mark and is certified by the South Coast Air Quality Management District. Safer for your health and carries less VOC emissions. Your skin will also appreciate that there are no harsh chemicals in the solution.
Environmentally Responsible - Take pride in owning a piece of equipment that carries the highest environmental certifications. Lessens the environmental impact for generations to come, taking care of our land, water and air resources. The biodegradable, non toxic water-based cleaning solutions makes this an environmentally responsible choice.
Benefits
Clean Parts - Experience cleaner parts with less effort. Let the cleaning solutions do the work, and spend less time scrubbing with wire brushes. The heated cleaning solution, when heated in PBC33A Parts Washers, works effectively by relieving surface tension of the grime doing more of the work for you.
Less Maintenance - Cleaning solutions lasts longer, minimizing bothersome solution changes and disposal requirements. Specially formulated solution does not absorb oil and dirt; while maintaining effectiveness and cleaning power. Cost-effective filtration system and internal oil skimmer captures contaminants, preserving the freshness of the cleaning solution.
Warranty
Warranted for defects in material and workmanship only.