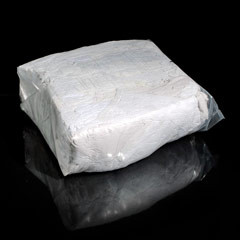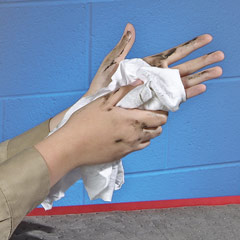 Item shown may not be actual product.
Product and price information are subject to change without notice.
---
$81.00 Direct from 3rd Party Supplier
WorkWipes® Reclaimed Rags - White - 25 lb. Bag
---
Item Number:
NWPWIP561 -
Supplier:
NEW PIG CORP
Description
Get 10% more of what you're paying for with WorkWipes® Bag of Rags! Soft, absorbent cotton is the wiping material of choice where you need extra strength and protection from heat. Strict selection criteria and light-weight packaging mean you get more usable, quality Rags in every package.
Features
Made out of recycled, post-consumer cotton and cotton-blend T-shirts; laundered prior to packaging
Durable, low-lint material is ideal for staining, wiping, polishing or any other general-use application
Compression-packed to save storage space; handle makes carrying easier
All Rags are free of printing and metal content, and they all meet a minimum size requirement, so you can actually use what you're buying
Poly bag means there's no heavy packaging added into the final weight; you get more Rags than you would with an equal-sized box
Warranty
Consumable, no warranty.
Product Specifications
Colors:: White
Weight:: 25 lbs.