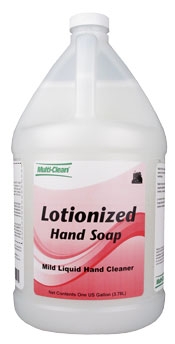 Item shown may not be actual product.
Product and price information are subject to change without notice.
---
$16.00 Direct from 3rd Party Supplier
Lotionized Hand Soap 1 Gallon
---
Item Number:
MNT910193 -
Supplier:
MINUTEMAN INTERNATIONAL INC
Description
Multi-Fresh Lotionized Hand Soap is a luxurious mild cleaner with rich lather and a pleasant fragrance. It's gentle cleansing formula effectively cleans your hands, yet is very gentle to your hands. Use in hotels, restaurants, offices, shopping malls, schools, or any other public buildings high quality, luxurious hand soaps are desired. Lotionized Hand Soap can be used in any bulk soap dispenser.
Warranty
Consumable, no warranty
Product Specifications
Appearance: White pearly, medium viscosity liquid
Fragrance : Fresh Fragrance
pH: 7 - 8
Specific Gravity : 1.02
Flashpoint: None
Biodegradable: Yes
Phosphate Free : Yes
Storage Stability : Excellent, 1 year under normal conditions
Freeze-Thaw Stability: Will freeze. Usable after thawing with no change in performance.