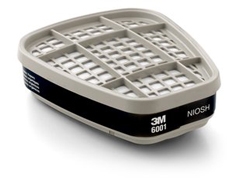 Item shown may not be actual product.
Product and price information are subject to change without notice.
---
$16.00 Direct from 3rd Party Supplier
3M™ Organic Vapor Cartridges 6001 (One Set)
---
Item Number:
MMM7046 -
Supplier:
NATIONAL OAK DISTRIBUTORS INC
Description
Respiratory protection against Organic Vapors - Class 1. NIOSH approved against certain organic vapors. Use in a variety of workplace applications. When properly fitted, helps provide respiratory protection from certain organic vapors at concentrations up to 10 times the Permissible Exposure Limit (PEL) with half facepieces. Not for use in environments that are immediately dangerous to life or health (IDLH).
Use with 3M™ Half and Full Facepieces 6000, 7000, and FF-400 Series with bayonet filter holders.
Benefits
Filters gasoline vapors for up to 8 hours once exposed to gas. Filters must then be replaced.
Includes
Warranty
Consumable, no warranty
Product Specifications
Length: 4.2"
NIOSH Cartridge or Filter Assigned Color Coding: Black
Recommended Industry: Transportation, Construction, Mining, Oil & Gas, General Manufacturing
Nuisance Odor Relief (> OSHA PEL): N/A
Standards/Approvals: Organic Vapors
Gas & Vapor Protection Type: Organic Vapor
Height: 3.4"
Recommended Applications: Batch-Charging, Clean-up, Assembly and Mechanical, Painting, Change-Overs, Seal Coatings, Chemical Dispensing, Parts Cleaning, Cleaning