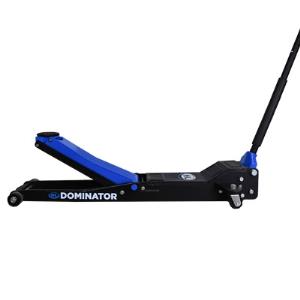 Item shown may not be actual product.
Product and price information are subject to change without notice.
---
$748.00 Direct from 3rd Party Supplier
Dominator Low Profile Extended Auto Floor Jack
---
Item Number:
KLS359775 -
Supplier:
K&L SUPPLY COMPANY
Description
This revolutionary floor jack was especially designed for vehicles with special front center lifting point behind the engine and vehicles where the lift point is inline with front axle, which requires an extra long and low floor jack. The ultra low-profile design (2.75" lifting pad to ground) allows the dominator jack to also take on vehicles with low ground clearance.
Features
Low profile design with the lifting pad to the ground at 2.75"
Extended design for long reach at 47" in length
Wide stance and low center of gravity provides optimum stability under load stress
Universal joint release mechanism provides precision control of load descent in any handle position
An exclusive designed breather plug eliminates air in the hydraulic system, optimizing jack performance
Warranty
One year
Product Specifications
Max Height: 16.5"
Front Wheel Base: 10.75"
Capacity: 1.5 Ton
Rear Wheel Base: 17"
Min Height: 2.5"
Length: 47"