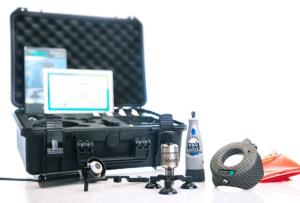 Item shown may not be actual product.
Product and price information are subject to change without notice.
---
$1,357.00 Direct from 3rd Party Supplier
GW-W33140 ProVac Zoom Professional Windshield Repair Kit
---
Item Number:
GLWGWW33140 -
Supplier:
GLASWELD
Description
This kit allows for mobile repairs, long cracks, edge and corners repairs and contains the ProCur+ LED UV Curing Light which can reduce repair time by as much as 5 minutes per repair! Plus, it comes with enough initial supplies for up to 250 repairs in a ballistics grade case to protect your investment. All GlasWeld injectors are made in America and come with a lifetime warranty.
Includes
ProvVac Zoom Professional Injector Assembly and Stand

High impact ballistic kit case

ProCur+™ LED UV Curing Light

ProCur+ USB Adapter: converts any 5-volt output to 12 volts (needed by the ProCur+). Allows you to be fully mobile

when coupled with a battery power bank of reasonable capacity with 5V output.

Moisture Evaporator

Resin 2010 Amber (15 ml)

Resin 2010 Gray (15 ml)

Pit Filler (15 ml)

Pit Polish (15 ml)

Polishing Cork

Injector Cleaners

Injector Seal Lube (15 ml)

Injector Seal Set

Corner/Edge Tool

Drill (Rechargeable with Charger)

Drill Bits – Carbide (5/pk)

Film Tabs

UV Blocker

Mirror

Cleaning Brush

Probe (Fixed Tip)

Probe (Replaceable Tip)

Razor Blades (6/pk)

Suction Cup (Black)

Suction Cup Sealant (60 ml)

Resin Guard

Operations Manual

Training USB

Online Training
Warranty
Individual items are warranted separately.
Product Specifications
Dimensions: 18" x 14" x 6"
Weight: 11.55 lbs.