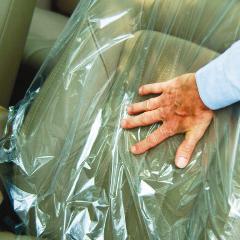 Item shown may not be actual product.
Product and price information are subject to change without notice.
---
$64.00 Direct from 3rd Party Supplier
Plastic Seat Protectors (Olefin Tufflene), 200/Roll
---
Item Number:
DLC10001 -
Supplier:
DELL CORNING CORPORATION
Description
These seat covers provide maximum protection for the vehicle's upholstery.
Recyclable.
Subscription Service - If you choose, your orders can be shipped monthly or quarterly automatically to your service department. The benefits for your dealership include the following:
Eliminates the need to place several orders throughout the year
Minimizes your needed storage area with scheduled shipments
Assures you always have an adequate supply
You're billed only once for the product you receive, as you receive it, improving cash flow
You may adjust or cancel your scheduled shipments at any time without penalty
Contact your Customer Service Representative for details.
Warranty
Consumable, no warranty.
Product Specifications