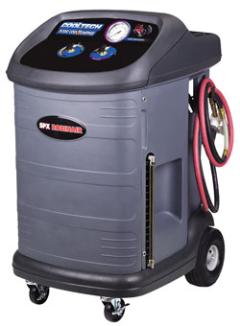 Item shown may not be actual product.
Product and price information are subject to change without notice.
---
$2,400.00 Direct from 3rd Party Supplier
COOL TECH Coolant Exchanger
---
Item Number:
ROB75700 -
Supplier:
BOSCH AUTOMOTIVE SERVICE SOLUTIONS
Description
10 minute exchange process means no more waiting for the engine to warm up!
Features
"Engine Off" feature removes pulleys, belts, and fan blades from the safety equation
No additional ventilation required
Vacuum mode creates a "push/pull" exchange process allowing the technician to safely remove high pressure in a hot system.
"Hands-off" transfer of used coolant to a bulk tank prevents spills and helps protect the technician.
Two clearly marked valves and an easy-to-read gauge make this machine very easy to use.
Sight glass clearly shows the amount of coolant in the waste tank.
One valve controls the flow of coolant; process is easy to understand - no special training needed.
No electricity required. 90 p.s.i. shop air drives the exchange prodess, as well as the 2 g.p.m. pump on the waste tank.
Impact-resistant polypropylene cabinet will not scratch or dent vehicle.
Cabinet is impervious to chemicals commonly used in the shop.
Large, inflatable tires carry a well-balanced platform easily across any shop floor.
Easy to maneuver between bays and vehicles.
Two external new coolant supply tanks allow on-board storage of two different coolant types.
Graduations on tanks show user the amount of new coolant on board.
On-board storage of step adapters
Adapter kit included
No hoses to cut.
96" hoses can be neatly stored on unit.
Warranty
One year warranty
Product Specifications
Tanks - Internal Waste: 15 gallon capacity
Large Step Adapter: Qty 2 included; fits hose size 1-3/4", 2", and 2-1/4"
Tanks - External Supply: (2) 5 gallon capacity (removable)
Dimensions: 47"H x 26"W x 38"D (119 cm x 66 cm x 84 cm)
Power Supply: 90 p.s.i.
Medium Step Adaptor: Qty 2 included; fits hose size 1-1/4", 1-3/8", and 1-1/2"