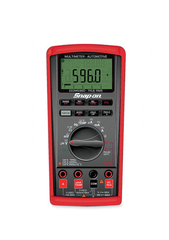 Item shown may not be actual product.
Product and price information are subject to change without notice.
---
Discontinued
Superseded to
EEDM596EK
True RMS Automotive DMM Digital Multimeter
---
Item Number:
EEDM596DK -
Supplier:
SNAP-ON TOOLS
Description:
EEDM596DK True RMS Automotive Digital Multimeter
Features:
LCD Display - 40000 count with 42 segment bar graph.

REC (Record Mode) - Store minimum, maximum, and average readings over a measurement period.

RANGE - Manually select the appropriate range.

AC/DC - Manually select AC or DC measurement function.

FUNCTION - Toggle between functions on Ohm, TEMP, and IG modes.

Hz (Frequency) - Measure the frequency of sensors and signals.

OHMS/RESISTANCE - Measure the resistance of spark plug wires, coils, sensors, and continuity of wiring.

High Resolution DCmV Range - Additional 40 millivolt range with 0.01mV resolution for improved accuracy when performing low voltage measurements.

DCV, ACV (DC Volts, AC Volts) - Measure the voltage of circuits and sensors. Measure the voltage of ABS wheel sensors.

REL (Relative Mode) - Factor out lead resistance for improved low ohm measurements or compare readings to a known standard. Can also be used for differential measurements.

CYL (Cylinder) - Selects the number of cylinders in IG mode.

HOLD - Lock the reading on the display for hard to read locations for future reference.

PEAK-H (Peak Hold) - Capture signals spikes as fast as 1mS to diagnose intermittent events.

TEMP (Temperature) - Measure temperature with included temperature probe.

AC/DC Current Functions - Measure the parasitic draw from the battery with ignition off.

CAPACITANCE - Measure the capacitance of condensors or capacitors found in today's hybrid automobiles.

IP, IG (Automotive Functions) - Measure RPM, Duty, Dwell, mS pulse width, Frequency.

TILT STAND - Is built directly into instrument housing.

SEPARATE FUSE/BATTERY COMPARTMENT - Is easily removed for battery and fuse replacement. Fuses are labeled with replacement number.
Includes:
500mA, Ceramic UL Fuse (EEDM504B1)
10 Amp Ceramic, UL Fuse (EEDM504B2)
Test Lead Set with Alligator Clips (EEDM504B3)
Temperature Input Adaptor (MT586-4)
Temperature Probe (MT586-14)
Software and Cable (EEDM596D1)
Inductive Pick-up (EEDM512B1)
Rubber Boot (EEDM504D1)
Soft Carrying Case (MT596AK1)
Instruction Manual (ZEEDM596D)
Warranty:
Seven (7) years.
Product Specifications
Maximum Voltage: 1000V
Fuse Protection mA: 0.5Amp/600VAC
Fuse Protection :A: 10Amp/600VAC
Operating Temperature Range: -0° to 45°C (32° to 113°F)
Storage Temperature: -40° to 60°C (-40 to 140°F)
Power Supply: 9 Volt Battery
Size: 1.5" x 3.75" x 7.75" (38.1mm x 95.25mm x 196.85mm)
Weight: 24 oz. (680g)