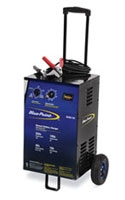 Item shown may not be actual product.
Product and price information are subject to change without notice.
---
Discontinued
Superseded to
EEBC100A
Battery Charger/Engine Starter
---
Item Number:
EEBC100 -
Supplier:
SNAP-ON TOOLS
Description
Manual Blue-Point Battery Charger/Engine Starter.
Features
Manually set charging time as required
Rugged retractable handle provides convenient storage
UL Listed - USA and Canada
200 amp 12 volt and 100 amp 6 volt engine start available for emergency starting
40 amp rapid charge charges in .5 to 1.0 hours
10 amp fast charge charges in 3 to 5 hours for everyday service needs
6" Diameter pneumatic wheels move easily over rough surfaces
Warranty
Product Specifications
Crank Assist On Time (seconds): 5
DC Lead Gauge: 8 AWG (Cu)
DC Lead Type: Fixed
Crank Assist Rating, ADC: 200
DC Lead Length: 6'
AC Cord Gauge: 16-3
Ammeter: 0-40
AC Cord Length: 6'
Output Voltages VDC: 6/12
Ventilation: Fan Cooled
Wheel Size: 6" (152 mm)
Power Supply Cord: Included
Continuous Input Current (Max.), Amps: 10
Number of Charge Rates: 3
DC Clamps: 300A
Output Currents ADC: 40/10/2
Crank Assist Off Time (Seconds): 240
Boost Rating, Amps: 200
DC Circuit Breaker: Self-Resetting
Switch Positions: 5
Crank Assist Input Current (Max.), Amps: 30
AC Circuit Breaker: Self-Resetting
Crank Assist Duty Cycle: 1/48
Weight: 40 lbs.
Rectifier: 4 Diodes
Input Voltage (Rated), VAC: 120
Timer: 135 Minutes
Dimensions (LxWxH): 13.8" x 13-1/2" x 20"