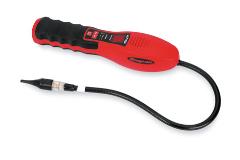 Item shown may not be actual product.
Product and price information are subject to change without notice.
---
$493.00 Direct from 3rd Party Supplier
A/C Refrigerant Leak Detector
---
Item Number:
ACT785B -
Supplier:
SNAP-ON TOOLS
Features
Unique digital alarm with numeric leak size indicator
Long life, stable sensor
Automatic and manual calibration and reset to ambient levels
3 adjustable sensitivity levels
True mechanical pump
Low battery indicator
SAE J2791 (R134a) and SAE J2913 (HFO-1234yf) Certified, EN14624 Certified
Mute feature
Garage tough
Visual LED leak alarm near sensor
Carrying case included
Inspection light utilizing bright 6,000 MCD LEDs
CE approved
Warranty
One (1) year.
Product Specifications
Numerical Display: 7 Segment Digital Display (1 tot9)
Weight, lbs. (kg): 1.5 (.68)
Power Supply: 4 "AA" alkaline batteries
Carrying Case: Included
Probe Length: 17 inches
Automatic and Manual Calibration: Yes
Warm Up Time: <20 seconds
Storage Case : Included
Sensitivity Range: .05 oz/yr (R134a), .03 oz/yr (R22)
Alarm Near Sensor: Yes
Sensing Tip Life: >300 hours
Battery Life: 8 hours continuous